We are Releasing a Limited Edition 45 Vinyl Record 
Featuring "She Don't want no Tambourine" (side A-Jax) and "Funk in my kitchen" (side B-More) 
Originally released in 2011 on the Never Too Late CD. We had a Bonus Track on that CD from Joe Senger's Band "LEAF". 
Back in 1982 Leaf released a 45 record called "Foodstamps" (side Funk) and "How do I know" (side Rock) 
It has been 35 years since the release of that LEAF Food Stamp 45 record, 
and it just seemed like a good time to release another classic. 
The official release date for the 45 Record is Valentines Day 2/14/18  
order now on the Funky Merch page on this website.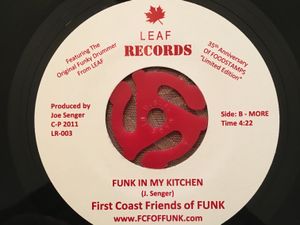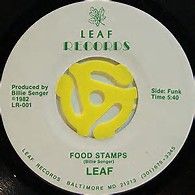 The record features the original songs and members from the 2011 disc. 
Joe Senger - Drums, Bass, and Vocals - Original Funky Drummer from LEAF - Food Stamps
Brady Clampitt - Guitar and Vocals 
JDash - Keyboards and Vocals - The WOP
Tom Row - Sax 
DeeJay Capone - On Deck 
Patrick Evan McMillan - Vocals 
So be on the lookout for this really cool Limited Edition 45, and you know DJ's buy doubles so get ya two.....